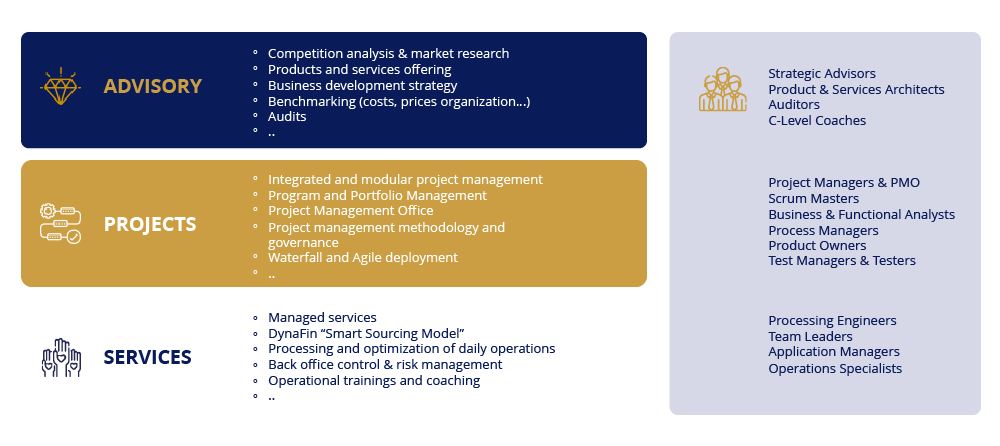 Solutions
We provide solutions for our clients in running their business through interventions on operational level, and in changing their business by advising them and managing their transformation project
Advising your business
We guide you in defining and implementing your vision, strategy and organisation.
As an independent niche player in Financial Services, part of a European Eco-System, we provide you with unique market insights, based on our wide spread presence in the market and continuous development of innovative solutions within our extensive industry network.

Our Advisors have built their expertise on a successful professional past in the industry in combination with their consulting experience in advising clients on business and architecture model evolutions. They differentiate themselves thanks to a sound knowledge of the industry regulations, products, services and organizational models.
Changing your business
We manage your transformation projects with proven methodologies based on an extensive track record.
Based on our extensive track record in successfully delivering end-to-end change projects we provide our clients with flexible (tailor-made) but proven project methodology.

Our experts facilitate the change within your organization through regular and effective communication and continuous focus on the organizational and linked human impact.

Our certified project teams provide you with high added value as they combine business expertise, a sound understanding of your challenges together with project lifecycle experience which allows them to easily identify project risks and potential pitfalls.
Running your business
We accelerate the progress towards your operational excellence target.
Our process experts (front, middle and back office) continuously share and discuss insights on all domains within Financial Services, based on which market best practices are being defined by our Operational Excellence Competence Center and shared with our clients.

Having a professional background in the Industry, our operations experts not only know the business processes, but also the operational risks and therefore provide immediate added value in providing day-to-day support.