To support its continuous growth, DynaFin joined in 2017 an international Ecosystem of consulting firms called Alan Allman Associates. Founded in 2009, this global Ecosystem consists today of 37 strong brands, with nearly 4,000 consultants specializing in advisory, developing innovative solutions and managing digital transformation projects. With offices in Europe, North America and Asia, the ecosystem maintains a network of dynamic, value-creating relationships in 4 areas:
High-tech consulting
Industrial transformation consulting
Digital marketing consulting
Strategy and management consulting.
Alan Allman Associates is listed on Euronext Paris and awarded the Happy At Work and Great Place to Work labels, is ISO 9001 certified and has received an Ecovadis Gold Medal for its CSR performance.
DynaFin can lean on this strong shareholder for its further development. Alan Allman Associates provides support through high quality corporate services, but above all gives access to cooperation between all strong brands. With 8 companies active in BeNeLux and 37 worldwide, DynaFin today creates even more value for its customers by linking the expertise of sister companies to its own areas of expertise.
You can read how integrated DynaFin is within Alan Allman Associates, and which value the Ecosystem generates in below insights into the Alan Allman Associates International Business Seminar in which we participate annually.
Alan Allman Associates hosts an annual international business seminar during which for 3 days they bring together senior management & directors from the more than 30 companies representing the Ecosystem. This year, the top venue chosen was in Nice, region in France.
The program invariably includes inspiring speakers, insights into innovation, macro-economic analysis, sharing of best practices and networking between companies to extract even more synergies from mutual cooperation.
As always, Alan Allman Associates succeeded again this year in finding a prime location for its annual seminar, the organization of which is in the hands of Brand Marketing International, the marketing consulting firm that is part of the eco-system and who manages DynaFin's Brand Marketing.
Day 1 : Let's get the seminar started!
After a warm welcome and greeting of colleagues from all sister companies, flown in from all corners of the world, an inspiring business session was scheduled in the large auditorium where the 200 participants gathered.
Every year, we kick-off the seminar with a welcome and opening session in which Jean-Marie Thual, CEO of Alan Allman Associates, provides insights on the Ecosystem's achievements over the past year, as well as ambitions and targets in the coming period. With more than 10 new companies joining again in 2023 and in addition the opening of Asia as a new continent, we immediately feel Alan Allman Associates speed, strength and ambitions. The presence in this new continent now also ensures that the sun never sets in the Ecosystem, which is not only symbolically a strong message but also crucial for the further development of 24/7, follow-the-sun services to our customers.
In this morning session, the newcomers get a chance to pitch their services and Unique Selling Proposition to everyone. This info is received by all seminar participants as new opportunities for cross expertise and bundling of offers. Further introductions during the networking moments are high on everyone's agenda.
Continuing this introductory session, general director Karine Arnold and CFO Benoit Schaeffer came to further explain the impressive growth based on the figures realized, both globally and individually per company. Both the external and organic growth of the Ecosystem continue to amaze, but we also see Alan Allman Associates's strength in their diversification strategy, both through presence in different industries and geographical spread of activities. This provides stability in growth and agility in response to macroeconomic shifts.
The Finance disclosures provide business leaders with further insight into their own business performance by allowing the financial KPIs to be compared with sister companies. For each financial KPI, the front runners are disclosed. Noted by all and again a reason to network, start sharing best practices to further optimize the KPIs.
After these insightful presentations, the go-ahead is given to join the power of collaboration in workshops around 5 different themes.
Cybersecurity : The Alan Allman Associates knowhow & expertise without borders
AI & Hyper automation : AAA leading the revolution
From Canada to the Rising Sun : Strong brands internationalization
Nearshore and Offshore : AAA opportunities
Global Clients : How to target large AAA customers on global scale
Brainstorming is organized throug mixed groups who define the AAA ambitions for these themes, translate them into short-term and longer-term strategies, and define concrete action plans. During the workshops, maximum support is used from AI applications that speed up the brainstorming process, shape the action plan, create summary presentations, etc. We all experience the power of these applications and how our consulting profession is subject to rapid change. Again, a message we will spread to all our teams.
After these intensive and fruitful workshops, we sat down for a fine dinner and an evening of networking, getting to know the new colleagues. We are not going to deny, the pleasant Indian Summer in Nice made all this more enjoyable.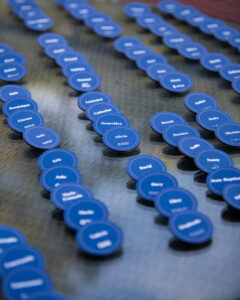 DAY 2 : Let the games begin!
Day 2 starts with the famous Alan Allman Associates Gallery where each company has its own booth to showcase itself to its peers. The unique opportunity to highlight each company's Unique Selling Proposition, hand out business information, make appointments to deepen collaboration opportunities in the following weeks, connect. You can feel the energy in the room, the ideas being exchanged, value is being created here, not only for the ecosystem but for all our customers.
After 2 hours of gallery, it is time for the different workshop pilots to present the results of the brainstorming sessions in the auditorium. The stated ambitions around the 5 topics are strong, in line with Alan Allman Associates 's vision to be a global leader and create value for all ecosystem stakeholders (companies, customers, shareholders, partners, …). The list of short- and long-term actions to be realized corresponds and the commitment of the participants to realize them in the coming period is strong.
In the afternoon, it is time to challenge each other athletically. Several groups are getting ready to play the OPIO Olympic Games. The ideal way to further forge bonds and group spirit between all these nationalities. The 6 activities including Frisbee match, Orientation quest, Obstacle course, … resulted in a nice podium and deserved winner!
A quick refresh and time for the annual Gala Dinner. This year outdoors, in the olive grove. A magical setting and the entire delegation in Gala Tenue. Delicious dining, combined with the presentation of the Alan Allman Associates awards. Many categories are discussed, and most companies get to go home with a nice prize and recognition. Everyone in the meantime is in the mood to start the dance party!

DAY 3: Time to say goodbye!
With a slight fatigue in the eyes, everyone found their way back to the auditorium in the morning. Here a big surprise awaited us, Romane Dicko as guest speaker! In light of the Olympic Games next year in Paris and for her tremendously strong professional track record (Olympic champion in Tokyo 2020, world champion in 2023) Alan Allman Associates invited her to give her vision of how she strives for excellence in her profession.
What an inspiring personality! Faced with setbacks in her still young career, but with resilience and clear ambition. Long-term vision that she translates into short-term goals, the strength she draws from her mental will to succeed, a person who got the whole room quiet and received a well-deserved minute-long standing ovation.
Finally, Jean-Marie Thual took the floor, clearly proud of all the talents that are part of the ecosystem, repeating Romane Dicko's golden advice in his closing speach: "We are priviliged to do what we love, so unleash the horses!"
And so the DynaFin team headed back to Brussels inspired and full of energy! To share this with our teams and our clients.
Our great gratitude to Alan Allman Associates for making this an annual top event!